Where are Hydraulic Breakers Used?
Hydraulic breakers have one job, and that's to break stuff apart.
They are used for a variety of demolition applications to break concrete, asphalt, rock and other materials. Breakers are primarily used on construction sites, and at mines and quarries.
They transform compact utility loaders, skid steers, mini excavators, backhoes and excavators into versatile demolition machines to perform two types of breaking: primary and secondary breaking.
Primary Breaking
Primary breaking describes when material is still in the ground. It is used for a variety of applications, including:
General demolition jobs
Concrete removal for driveways, sidewalks, roads, etc.
Site work on job sites
Utility work for gas, water, electrical etc.
Trench work
Foundational work
Quarry work, sometimes used as an alternative to blasthole drilling
Secondary Breaking
Secondary breaking describes when material being broken has already been extracted from the ground. It is used for:
Breaking up oversized material from drilling and blasting
Quarry applications
Breaking up concrete that has been removed from the ground
Hydraulic breakers come in a range of attachment sizes to meet your breaking needs and operating budget. Contact FRD USA at 800.527.2282 to find an FRD dealer near you and learn more about how top-performing FRD breakers can meet your needs for virtually any demolition or compaction job.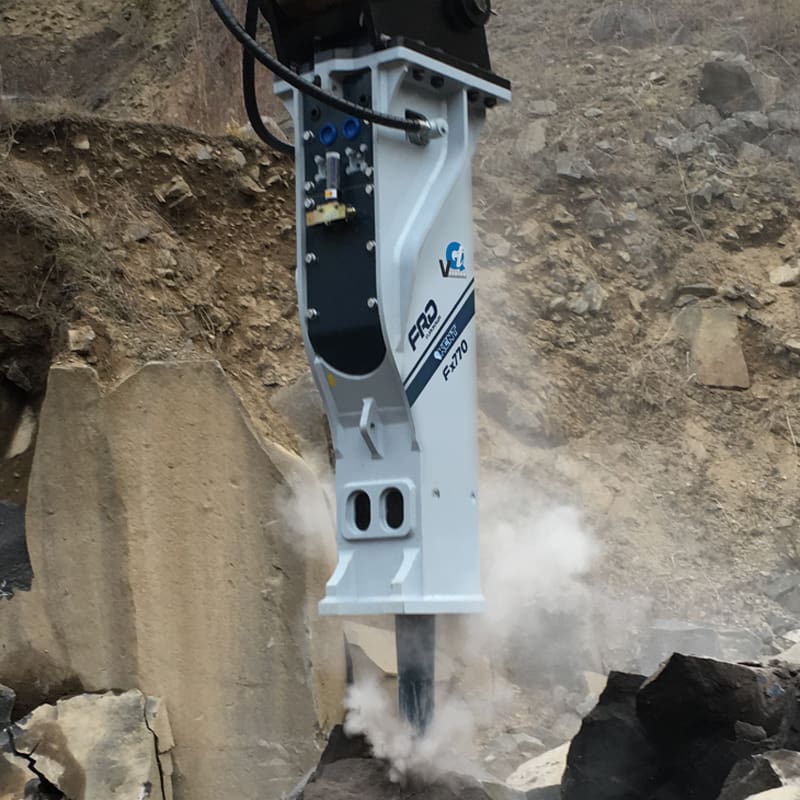 To learn more about FRD USA hydraulic breakers and how their mono-block body design can improve productivity and decrease costs, call FRD USA at 800.527.2282
Furukawa Rock Drill USA is a leading manufacturer of blast hole drills, hydraulic breakers and various other attachments for skid steer, mini excavators, backhoes and excavators. FRD USA Attachment Division (formerly marketed as Kent Demolition Tool) is a leading brand throughout North and Central America, and FRD USA Rock Drill Division offers a complete line of advanced drills and accessories for construction and quarry sites.