MECHANICAL THUMBS  – VERSATILITY IN ACTION
These three-position thumbs are ideal for use in demolition, recycling operations, landscaping and general construction applications.
FRD USA offers a full line of thumbs designed to fit carriers ranging in size from 3,000-120,000 pounds. All tines are fabricated with AR400 steel, which is 38% stronger and 46% harder than commonly used T-1 steel. All pins are machined from hardened steel alloy for low maintenance.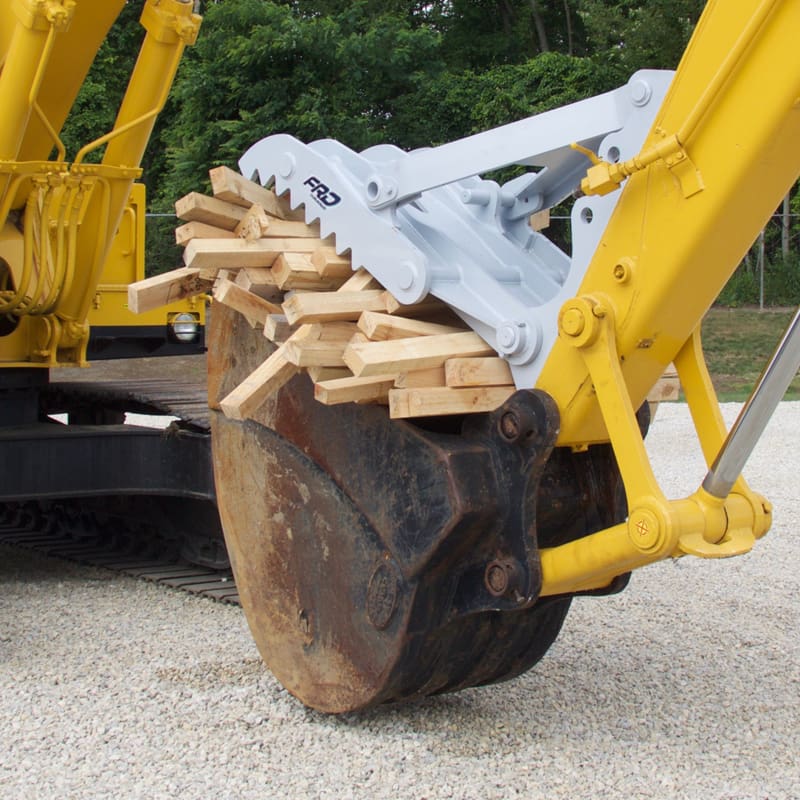 Features & Benefits
Expanded range of heavy-duty thumbs permits installation on mini-excavators, rubber-tired back-hoes and excavators.
All steel tines are fabricated with AR400 (abrasion resistant) steel, serrated and gusseted, it is 38% stronger, 46% harder than T-1 Steel.
Thumbs feature three versatile, ridged positions to adapt to a variety of working conditions.
Pins are machined out of hardened steel alloy.
Overall thumb width never exceeds the carriers minimum bucket width eliminating potential interference during operation.
Thumbs fold flush and maintain a low profile when pinned flat against mounting bracket.
No additional parts are required to hold thumb in retracted position.
All units shipped with easy-to-follow installation instructions.
CARRIER COMPATIBILITY GUIDE for MECHANICAL THUMB
Select FRD Model
MT 33X40
MT 8X16L
MT 3X10
MT 33X40
MT 40X55
MT 55X65
MT 65X80
MT 80X120
MT 8X16
MT 16X33HD