TEFRA Auto Couplers Bring Added Safety and Productivity to Job Sites
By Tim Carroll
The hydraulic coupler addition for excavators was developed a few decades ago. The purpose: to enhance the utilization of the excavator to becoming a "tool carrier." Doing so allowed the contractor to use one machine for multiple job functions by making attachment changes quick and efficient—and to do so with an absolute minimum of machine downtime making the changes.
Early Version Couplers
Initially, early version couplers were designed with mechanical components. While this did eliminate the process of driving pins out to make a change from a bucket to another bucket or tool, there was still undesirable lag time where the operator was out of the unit and not tasking on the job.
For larger excavators, hydraulic activated coupler upgrades were made. Two grabbing hooks are hydraulically activated that close or open on the target attachment. This hydraulic upgrade allowed in-cab detachment and engagement. These couplers were designed with a safety retaining pin that needed manual effort to install or detach. That meant for safety, these versions still required the operator to stop, get out and insert a safety pin. But, some operators invariably began skipping the safety pin step to save time, which meant attachments could be mistakenly detached while in operation. Because some did detach, the result was damaged equipment and worse, injuries and legal issues.
The typically tough EU regulators quickly reacted to eliminate this danger. To prevent accidental opening, auto-lock features became mandatory. The ISO regulations increased, making it illegal to utilize gravity from controlling open/close functions. The advent of the TEFRA design in 2010 was a breakthrough in both functional improvements while adding a failsafe device called the "Smart Valve."
TEFRA: Intelligent, Double Locking Systems
In the basic open and close function, there are two locking systems:
Hydraulic—the primary system consists of a uniquely designed set of hooks powered by a single cylinder and high specification hydraulic controls that lock the attachment securely into place. Hydraulic energy deploys the hooks into full securing position.
Mechanical—in the event of system hydraulic failure, a secondary locking system is in place. There are two separate springs, a coil and leaf spring combination that maintains closing pressure to each hook, assuring attachment retention at all times. The spring system is rated at 10 times the needed force to maintain closure. Best yet, just three moving parts are used in this safe and low maintenance design.
Smart Valve Prevents Chance of Accidents
The TEFRA Auto Coupler's Smart Valve safety device consists of a hydraulic system stop that prevents the operator from inadvertent opening of the coupler. If attempting to disengage opening the coupler (by activating hydraulic flow), it is only now possible when the unit is rotated and safely down at the ground level.
The TEFRA Auto Coupler has won engineering awards in Europe, including the Queen's Award for Engineering Innovation. With the double locking and Smart Valve systems, it was judged to "remove operational risks completely." It is the standard from which ISO establishes its regulations.
One Excavator, Multiple Jobs
In smaller machines, like mini excavators, mechanical couplers have typically been used because of cost considerations. But, that's changing as smaller hydraulic pin grabber couplers have become more cost effective. At FRD, TEFRA Auto Couplers can be used in 3 to 4 ton carriers on up to 40 to 50 ton carriers. The goal is for one excavator to be able to perform multiple jobs on one site- a true 'Tool Carrier'.
Also, there are also optional coupler model variants that offer a combination of a mounting to one brand or style of unit with another's attachment mix. By "marrying" a machine to existing attachments, this hybrid model allows a new machine type to be acquired without additional outlays.
To learn more about TEFRA Couplers and their advanced safety and productivity features, call FRD USA at 800.527.2282 or locate your sales rep.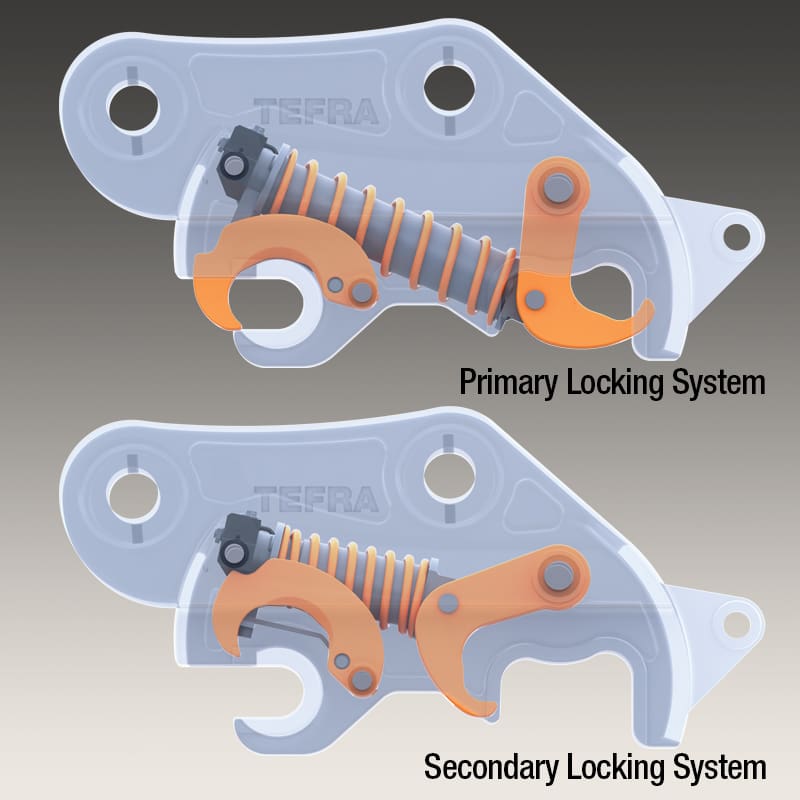 To learn more about FRD USA hydraulic breakers and how their mono-block body design can improve productivity and decrease costs, call FRD USA at 800.527.2282
Furukawa Rock Drill USA is a leading manufacturer of blast hole drills, hydraulic breakers and various other attachments for skid steer, mini excavators, backhoes and excavators. FRD USA Attachment Division (formerly marketed as Kent Demolition Tool) is a leading brand throughout North and Central America, and FRD USA Rock Drill Division offers a complete line of advanced drills and accessories for construction and quarry sites.